I've always been a bit of a bag collector, not just camera bags. It can be an expensive hobby. And so can photography. I put my money in camera bodies and lenses. Accessories can be equally expensive but there are good quality budget items available.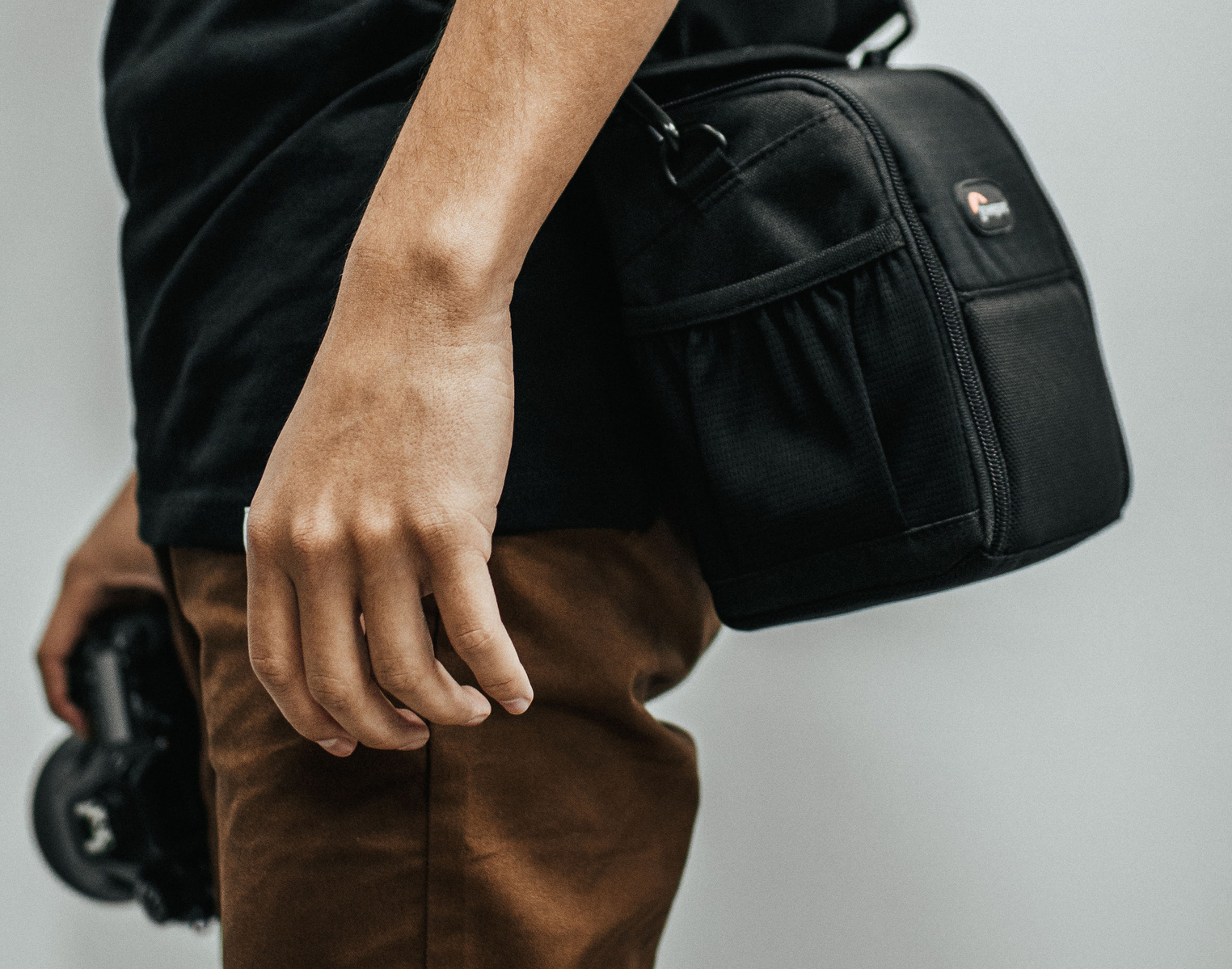 I don't know what attracts me to the perfect mix of utility and design, but man, I have a few and have coveted more that I'm too conservative to buy. That being said, I have 4 camera bags that I generally use, for different purposes. Here are the formats I use and what I put in them.
1. Camera backpack
My camera backpack is my go-to these days, for location shoots and for travel. As my kit has grown, a shoulder bag is no longer my all-purpose carrier. I used one for years almost exclusively, and while it held everything I needed plus a bit more, I also found myself with a sore trapezius muscle at the end of a shoot. To deal with my growing herd and my no-longer-young back, I almost always use this. If it's a shoot that requires two bodies, I'll always transport them in this bag. It has room for my Nikon D750 with a 70mm-200mm attached as well as my Nikon Z 6 with a 24mm-120mm plus space for a flash or an extra lens. Even if I don't need both bodies, I'll use the bag because the padding and adjustable dividers guard my gear well. I've flown with this bag three times. It fits the overhead compartment easily and even fully loaded with my 15" MacBook Pro, the weight distribution and straps makes this a very comfortable backpack. They no longer make this exact version, but it can still be found. If I had to buy a new one, I would likely go for a Fastpack BP 250 AW II.
2. Shoulder bag(s)
I use two shoulder bags depending on what I'm shooting. As a general walking-around bag, when I only need two lenses, I use something like this. The one I use is no longer available for some reason, but it allows me to carry my 24mm-120mm ƒ4 on one of my bodies, as well as my 70-200 ƒ2.8. The two outside pockets allow me to pack a flash (if it's not a concert shoot) and my 50mm ƒ1.4 (in case the show is lit by a candle and an iPhone). The flat back pocket holds my lanyard and cred holder. Bag number two I use when I'm shooting an arena show that requires my 200-500 ƒ5.6. This bag allows me to carry a body, that lens, plus one more. And I can hook my monopod to the handle with a carabiner.
3. Single-camera and lens bag.
I use this for when I'm just walking around taking street photos. Mine is a groovy old 90s version that's forest green and tan, but the functionality is the same. I put this strap on it for cushiony comfort. But the bag holds everything that I need when I'm a bit more casual with my photography. The inside pouch will hold something flat like extra SD cards, while the outside pouch will hold an extra battery, a tiny folding tripod, a cloth and my keys, with room to spare.
For the age-old and possibly controversial question, what is IN my bag(s)? I do have a few items that I make sure I'm carrying whenever I'm out on a shoot. And some things that maybe you've never thought of…
But that will come in a future post.
Photo by Luis Quintero from Pexels